How You Can Help
If you discover an abandoned well, DEP is available to ensure that it has been properly identified and that any potential environmental, health and safety issues are addressed, as resources allow. You can contact DEP by calling one of the Oil and Gas District offices at Meadville District Office: 814.332.6860
News and Updates
A Pennsylvania Community Wins a Reprieve on Toxic Fracking Wastewater June 13, 2023
Pennsylvania Expects $400 Million in Infrastructure Funds to Begin Plugging Thousands of Abandoned Oil Wells Stacey Burling, June 11, 2023
'We don't feel safe': US community in shock after record methane leak March 6, 2023
Plugging Pennsylvania's Abandoned Oil and Gas Wells January 27, 2023
Colorado ponders storing carbon in defunct oil and gas wells
Pa. drillers abandoned thousands of natural gas wells in 5 years, ignored state law, report says January 2023
NETL Story Map Rediscovery of Abandoned Wells in the World's First Oil Field
To find old methane-leaking oil wells, researchers look to history
New Abandoned Wells: DEP Records Show Abandoning Oil & Gas Wells Without Plugging Them Is Pervasive In Conventional Drilling Industry; Who Is Protecting Taxpayers? (March 2022)
PA Environmental Digest Blog - Federal Infrastructure Well Plugging (Feb 7, 2022)
Unplugged - Pittsburgh Post Gazette - April 3, 2020
Old oil and gas sites are a climate menace. Meet the company that owns more of America's decaying wells than any other. By Zachary R. Mider and Rachel Adams-Heard of Bloomberg Green
Video of Methane Hunting trip by Zachary R. Mider and Rachel Adams-Heard of Bloomberg Green
With Billions in Federal Dollars, Will Pennsylvania Finally Cap Its Abandoned, Polluting Oil Wells? (Capital & Main) - December 8, 2021
Surge in funds gives hope for plugging wells. How to distribute money next challenge for state. (By LAURA LEGERE AND ANYA LITVAK PITTSBURGH POST-GAZETTE)
Plugging abandoned wells boosts local economies
CBS News Video: Abandoned gas and oil wells becoming an environmental threat in the U.S.
Solar Energy Webinars Mostly for leaseing your land.
Healthy Macros, Healthy Streams! Penn State Extension Service
Video Retired Oil Exec Wants to Plug Up Millions of Abandoned Wells Across the US
---
---
Repairing the Damage from Hazardous Abandoned Oil & Gas Wells - Ohio River Valley Institute
Well Plugging Liabilities by State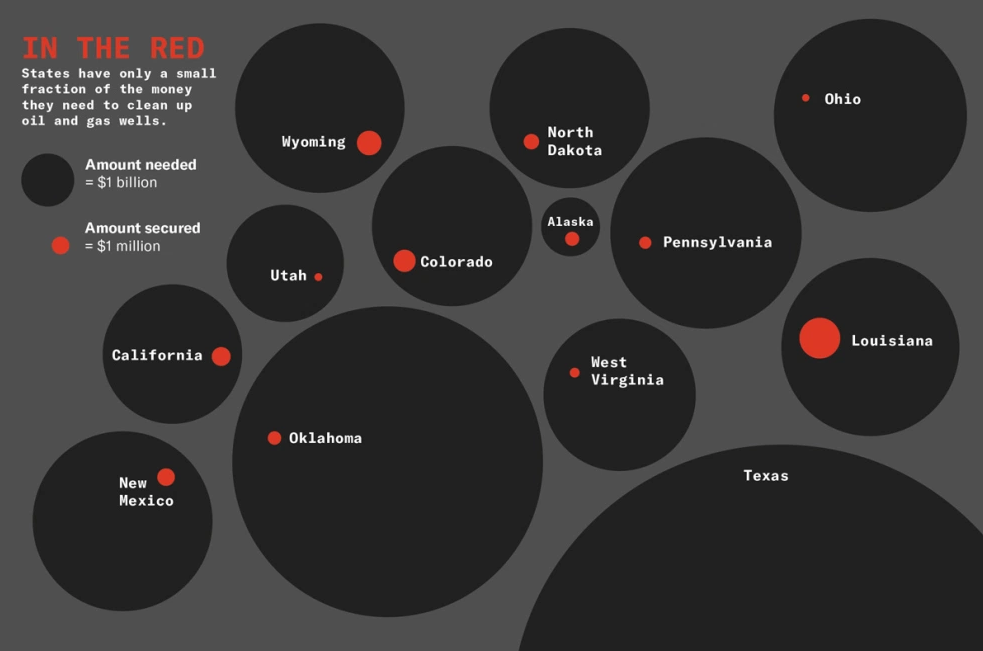 Oil and Gas Firms Are Saddling States with Billions in Cleanup Costs
---
---
---
SHARC—Shale Research Clearinghouse (beta) SHARC is a publicly accessible, curated clearinghouse for information on the economic, health, and environmental impacts of oil and gas development.
Opposition mounts to proposed shale gas wastewater facility
Radioactivity from Oil and Gas Wastewater Persists in Pennsylvania Stream Sediments
Pennsylvania confirms first fracking-related earthquakes
Spate of small earthquakes shuts down fracking activity in Lawrence County
"Shale Gas and Oil Development" A presentation at Dickinson College by Anthony "Tony" Ingraffea of Cornell University discussing the gas industry myths, new research, leaking wells and effects of methane on Climate Change
A map that shows the locations of Abandoned Wells found by Venango PaSEC and wells plugged by DEP
See the Map