Water Monitoring - Links
---
---
Organizations we work with:
---
---
---
Macro-invertebrate Information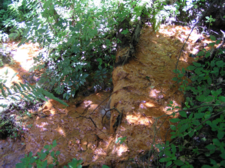 Iron seep
Although this iron seep may look harmful to the stream, chemical tests done 100 feet downstream from the seep indicate minimal levels of iron. The iron appears to oxidize as soon as it comes into contact with the air and precipitates out of the water.
---
Off Topic but interesting
What you need to know about genetically engineered crops.
Membership
We welcome new members and volunteers. Come to one of our meetings and meet the group.
Contact:John Kolojejchick
814-676-6435
Send us an email and we will add you to our email notification list.
Questions or Comments can be sent to comments@vpasec.org